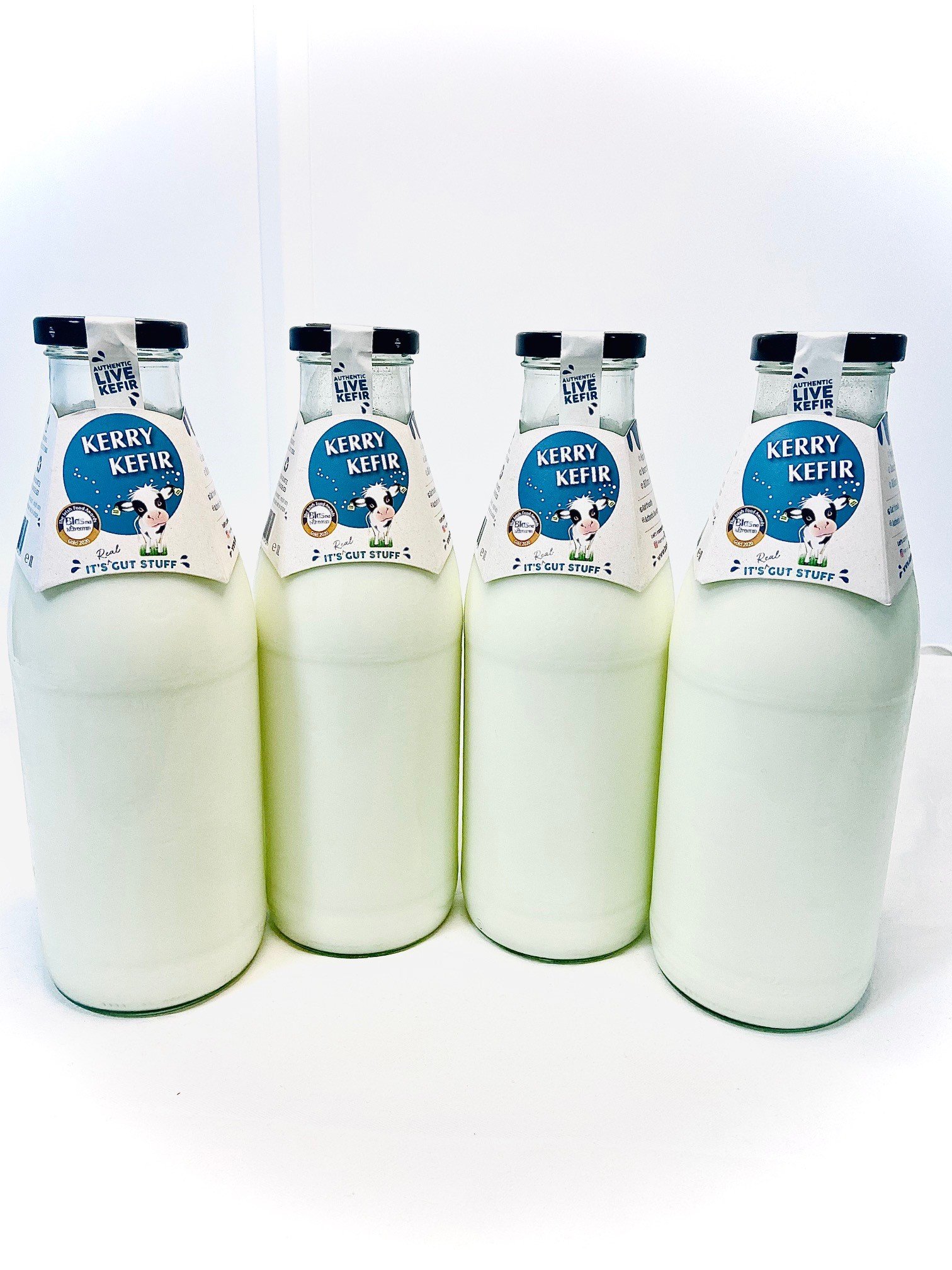 Kerry Kefir Delivery Subscription
Experience the rich taste of Kerry Kefir, crafted through natural fermentation processes. With over 30 live bacteria cultures and all the time-tested benefits of traditional kefir.
Milk-based kefir delivered to your door from €1 a day. 
Positive start to your day – sorted. 
No commitments – you can cancel, postpone, or change the amount of bottles/frequency at any time via your account. 
Orders are dispatched on Mondays and Wednesdays for next-day delivery. Orders for the next dispatch must be received before midnight the night before we ship our orders (i.e. Sunday/Tuesday).
Kefir delivered when it suits you, choose from
Delivery Every Three Weeks
Not Ready to Subscribe?
Get a Once-Off Delivery of Kerry Kefir
Here's what our customers say about Kerry Kefir
"After many months I am a loyal and dedicated fan of Kerry Kefir milk. The taste is mild and refreshing and the consistency is slightly thicker than an average glass of milk. This product works by introducing live bacteria into the gut. I have more energy now and it has also made my skin glow! A little goes along way with this product and 100ml is the recommended daily amount."
"I've been drinking Kerry Kefir for well over two years now and could never be without it now. If I do run out of it or I'm away I notice such a difference after a few days. I have suffered with IBS most of my adult life and Kerry Kefir has definitely made such a huge difference to my gut health. Less bloating and my symptoms are finally under control as a result. Love that the bottles are recyclable too. Would 100% recommend"
"This is such a wonderful product I can't tell you the difference it has made since I started taking it. I had gut issues and the kefir milk makes such a difference to it. I love the way this is packaged in the glass bottles too kind to your stomach and the environment. Keep up the good work!"
Disclaimer:
The testimonials and feedback shared by our customers on Kerry Kefir's website and social media reflect their individual experiences and are not to be construed as health claims made by Kerry Kefir. We emphasise that there are currently no approved health claims associated with probiotics by the Food Safety Authority of Ireland (FSAI). While traditional kefir has been consumed and cherished for its qualities for over 2,000 years, Kerry Kefir does not make any specific health claims regarding its products. 
Why Kerry Kefir?
Kerry Kefir is the most natural kefir available on the Irish market. We make our milk kefir the traditional way, using living organisms (kefir grains) to ferment our locally sourced cow's milk. Fermenting our milk with the kefir grains provides a powerful kefir with all the time-tested benefits of traditional kefir, as it was made over 2,000 years ago! Experience the richness of 30+ live bacteria cultures in every bottle of Kerry Kefir.
Delivery
Kerry Kefir will be delivered straight to your door by DPD. We do our best to protect our glass bottles as well as we can, so they arrive to you safe and sound. We also package them with ice packs so they stay cool in transit. Once you get your bottles, please refrigerate them as soon as possible and allow them to settle before opening.
We dispatch on Mondays + Wednesdays for next-day delivery. Our order cut-off is 12 midnight the night before we ship our orders. If you place an order after this time, your order will be sent on the next dispatch day i.e. Monday or Wednesday.
Tips on Using Kerry Kefir
Kerry Kefir contains live cultures, meaning the kefir is still fermenting in the bottle. As such, the kefir will get stronger, thicker, and fizzier over time which is completely natural and incredible! We suggest you use each bottle of kefir on alternate days so that you are opening the lid of each (or as we call it "burping"). Kerry Kefir can be frozen in the glass bottle it comes in and thawed when you are ready for it. We suggest taking a portion of kefir from the bottles you want to freeze, to ensure adequate space for the liquid to expand.
Recycle Your Packaging
We encourage our customers to return their Kerry Kefir packaging by offering a free collection. Our customers can return the empty glass bottles, ice pack, and labels for them to be reused. Many of our stockists also allow Kerry Kefir customers to return their empty bottles to their stores (just put them behind the new stock) and we collect them when restocking.