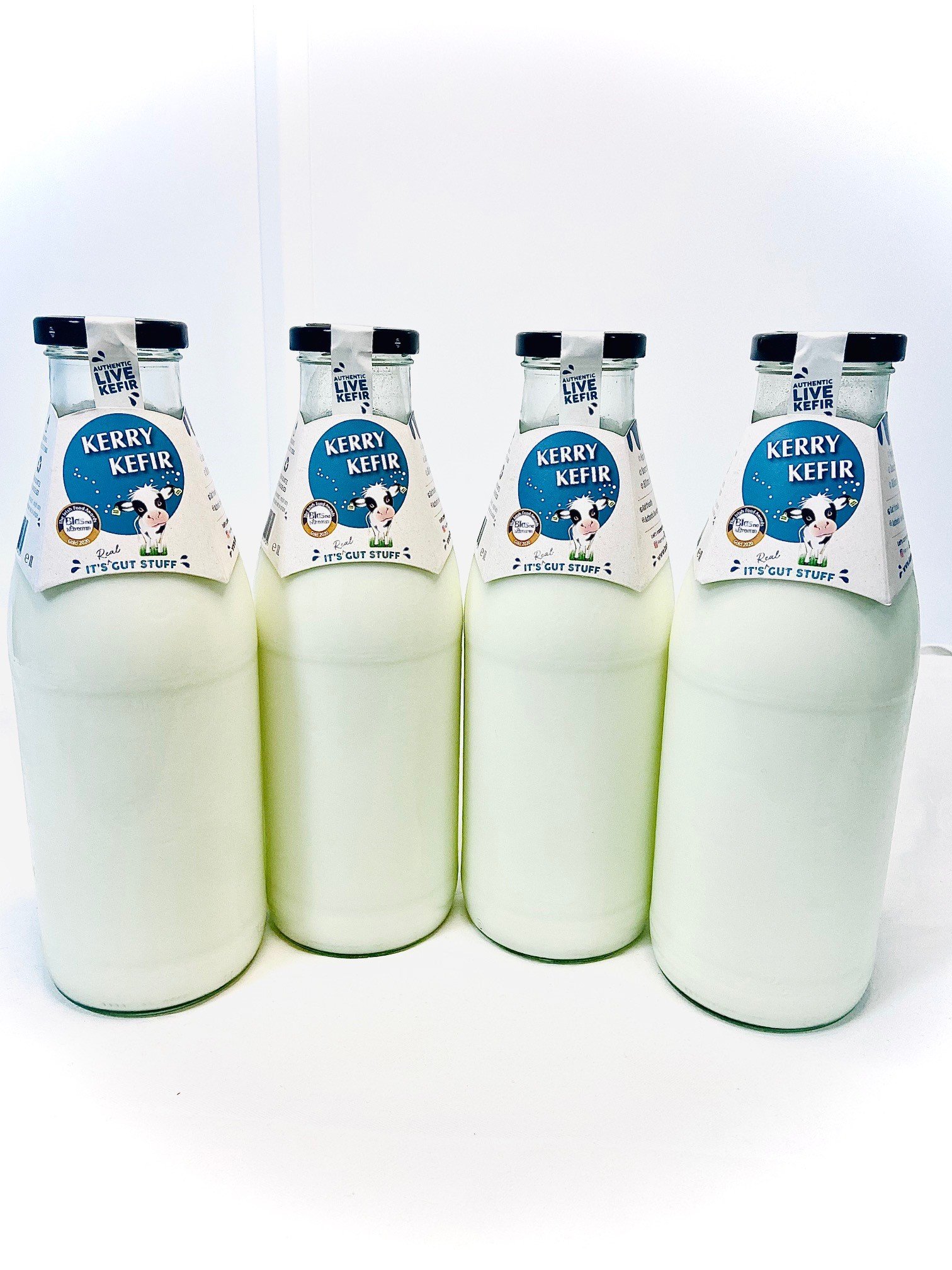 Kerry Kefir Once-off Order
Experience the rich taste of Kerry Kefir, crafted through natural fermentation processes. With over 30 live bacteria cultures and all the time-tested benefits of traditional kefir.
Milk-based, traditional kefir delivered to your door from €1 a day. 
Gut health – sorted. 
Orders are dispatched on Mondays and Wednesdays for next-day delivery. Orders for the next dispatch must be received before midnight the night before we ship our orders (i.e. Sunday/Tuesday).
Never run out of Kefir!
Subscribe for hassle-free Kefir deliveries.
Here's what our customers say about Kerry Kefir
"Spectacular product, incredible results for your gut health and immune system 🙌🏼 unlike commercial alternatives this is an artisan made Kefir by people who has deep knowledge on what they are doing. As a plus it tastes great and Mary Thea will give you loads of recipes and tips on how to get amazing results. Totally recommended 💚"
"I cannot recommend Kerry Kerfir enough it was changed my life. I suffer with a gallbladder condition and the symptoms are quite painful at times.
Kerry Kerfir has taken away all the symptoms. I will always have the condition but now I can live a decent life with it. I am forever grateful to Mary and Kerry Kefir."
"Absolutely amazing product. I have been struggling with my gut health for a long time and taking Kerry Kefir regularly has really improved it. Always top quality and delicious, gets added to my smoothie every morning."
Disclaimer:
The testimonials and feedback shared by our customers on Kerry Kefir's website and social media reflect their individual experiences and are not to be construed as health claims made by Kerry Kefir. We emphasise that there are currently no approved health claims associated with probiotics by the Food Safety Authority of Ireland (FSAI). While traditional kefir has been consumed and cherished for its qualities for over 2,000 years, Kerry Kefir does not make any specific health claims regarding its products.
Why Kerry Kefir?
Kerry Kefir is the most natural kefir probiotic available on the Irish market. We make our milk kefir the traditional way, using living organisms (kefir grains) to ferment our locally sourced cow's milk. Fermenting our milk with the kefir grains provides a powerful kefir with all the time-tested benefits of traditional kefir, as it was made over 2000 years ago! Look after your gut health with the most natural probiotic available for you and your family.
Delivery
Kerry Kefir will be delivered straight to your door by DPD. We do our best to protect our glass bottles as well as we can, so they arrive to you safe and sound. We also package them with ice packs so they stay cool in transit. Once you get your bottles, please refrigerate them as soon as possible and allow them to settle before opening.
We dispatch on Mondays + Wednesdays for next-day delivery. Our order cut-off is 12 midnight the night before we ship our orders. If you place an order after this time, your order will be sent on the next dispatch day i.e. Monday or Wednesday.
Tips on Using Kerry Kefir
Kerry Kefir contains live cultures, meaning the kefir is still fermenting in the bottle. As such, the kefir will get stronger and thicker over time which is completely natural and incredible! We suggest you use each bottle of kefir on alternate days, so that you are opening the lid of each (or as we call it "burping"). Kerry Kefir can be frozen in the glass bottle it comes in and thawed when you are ready for it. We suggest taking a portion of kefir from the bottles you want to freeze, to ensure adequate space for the liquid to expand.
Recycle your Packaging
We encourage our customers to return their Kerry Kefir packaging by offering free collection. Our customers can return the empty glass bottles, ice pack and labels for them to be reused. Many of our stockists also allow Kerry Kefir customers to return their empty bottles to their stores (just put them behind the new stock) and we collect them when restocking.